Spondylus for sale
New Spondylus listed everyday, add this page to your favorites.
SPONDYLUS SHELLS FOR SALE FOR COLLECTORS:
SPONDYLUS FOR SALE ON EBAY GERMANY:
SPONDYLUS FOR SALE ON EBAY FRANCE:
Collecting Spondylus shells : a very popular hobby
Spondylus are bivalve molluscs with a wonderful shell, they are famous for their spines. Even if they are not at all an oyster (they are scallops), they are often called "spiny oysters". This unique pattern make them very appreciated by malacologists and seashell collectors. Their large variety of forms and species make them very interesting to study and collect. Some Spondylus shell are very hard to find, some other species are really common.
What is the price of a Spondylus shell ?
How much a Spondylus shell worths ? There is no easy answer to that question. Spondylus linguafelis can reach some very high price above $1000 for GEM specimens with a large size ! But you will find some Spondylus americanus at more reasonable prices around $350 and Spondylus visayensis can be found at $200. To buy some cheap Spondylus, see at the bottom of our selection.
An example of a rare Spondylus shell :
This rare Spondylus multimuricatus 111.1mm was listed on eBay at $4500 but it is a world rarity ! A masterpiece for any Spondylus collection.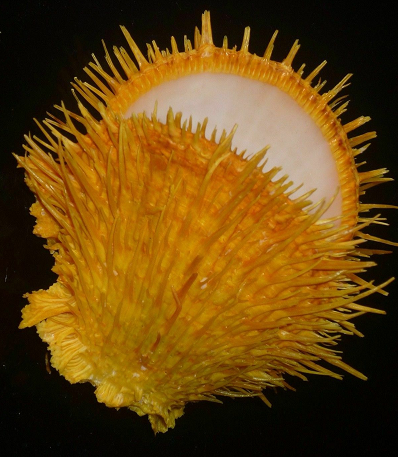 A very rare Spondylus multimuricatus 111.1mm
How to buy a Spondylus shell ?
Look at our daily selection and click on the Spondylus you like. Then you will be automatically redirected towards a merchant site like eBay where you can purchase that seashell. It is a simple as that ! We select Spondylus offered online by serious dealers and collectors. And if you have any questions about a specimen or a Spondylus dealer, feel free to send us an email.

Shells for sale :

Recommended sellers :