Fluorites for collectors
New fluorite crystals and stones listed everyday, add this page to your favorites.
RARE FLUORITES FOR COLLECTORS:

A selection of fluorite crystals and stones for collectors
Our team daily selects the rarest fluorites available online. We also select some beautiful fluorite wands and fluorite spheres for mineral collectors. Fluorites have always been very popular on the market due to their beauty, their transparency and the rarity of some museum-quality specimens. Fluorite is the mineral form of Calcium Fluoride. It is seen as a healing stone in lithotherapy.
More information about fluorites
Fluorite is composed of calcium fluoride, it is the fluorinated spar of miners. Fluorite is cubic, with cleavage giving an octahedron. It is mainly a vein mineral where it accompanies the metal ores and sometimes constitutes the main filling. It is then exploited as a flux. Its luster is weak, but the beauty, sometimes the size of the crystals, especially cubic crystals, reaching 1 millimeter and the variety of its colors make it a mineral sought after by collectors. Violet and green hues dominate, but fluorite can also be colorless, blue, yellow or pink, and sometimes black in uraniferous veins. Its colors are often arranged in zones that can give beautiful objects after polishing. Fluorite crystals in private collections often come from the Blue John Mine in Cumburland (Great Britain) where fluorite has been mined as an ornamental stone since Roman times. Fluorite sometimes presents the phenomenon of dichroism : green by transparency, it appears mauve by reflection. Some remarkable specimens have been found in the United States, Australia and Canada.
What is the value of a rare fluorite crystal ?
The value of any mineral or gemstone depends of various factors. Fluorite value takes into account the purity of the fluorite, its transparency, its color and of course its size and its form. To give you some examples, a 4.3kg museum-quality natural purple edge fluorite & white quartz specimen is offered at $12,280 online. But you can also find some much more affordable fluorites online around $50.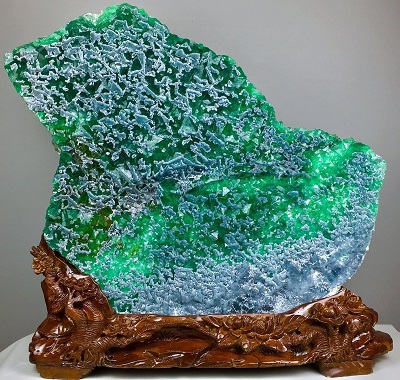 This rare 69.4kg natural octahedral Fluorite cluster was offered at $20,000 on an American website.
How to get a fluorite here ?
There is nothing easier, just have a look to our fluorite selection, click on the fluorite crystal or fluorite stone you like and we will automatically redirect you towards a secured website where you can find it. Have also a look to our Top 100 Mineral Auctions if you are interested in rare minerals.